Payment and Cancellation Policy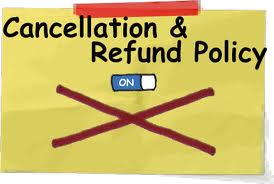 Payment for all courses, including Continuing Education courses, Pre-Licensing, Brokers courses and others is due upon registration through an approved credit card or Check through this secure site. If you do not have a credit card or checking account and wish to use some other form of payment, (such as cash or cashiers check), you can request special handling by e-mailing the administrator: Customer Service.
NOTE: Payments made in any way other than online credit card or online check may incur a special handling charge. Payments are non-refundable. However, we guarantee all courses, and have provisions to ensure completion.
Unused portions of Fast Track combination packages (those combining courses with other products or additional courses for deeper discounts) are not refundable or returnable as separate items.
Approved Real Estate Academy students have the right to cancel for more than a full week, (until midnight of the eighth calendar day after registration) and receive a 100% refund (less a $50 administrative fee) without penalty. The administrative fee for Continuing Education courses is $25.
In simple terms, a student is entitled to a tuition refund if both of the following conditions have been met:
Approved Real Estate Academy has received an email canceling the student's registration and requesting a refund within 8 calendar days of the student's registration date; AND
The student has not logged onto and/or begun the online course.

The refund will not be paid until the written refund request has been received. The refund will be paid within 30 days of receipt of the written refund request. The administrative fee will be withheld from the refund amount. Your cancellation request must be received by midnight of the eighth calendar day from your registration date.

No refund request will be considered:
if you have logged onto the online course, or
If the request is made any later than 8 days after your registration date.
To request a cancellation, you must contact Approved Real Estate Academy, first via email:
Jim@ApprovedRealEstateAcademy.com, and then by phone at 714-875-0979.
If you are concerned about making your payment over the Internet, and want to talk to a live person, you can call us at 714-875-0979, or email
Customer Service. Our fax number is 714-849-5473.
Our hours are 9:00 am to 5:00 pm Monday through Friday
For more information contact:
Jim Forde
Director
Approved Real Estate Academy
4010 Barranca Pkwy., Ste. 100
Irvine, CA 92604
Phone: 714-875-0979
Email: Jim@ApprovedRealEstateAcademy.com
MAILING ADDRESS
Approved Real Estate Academy
PO Box 4163
Tustin, CA 92781