Career Advancement Accounts
What is the MyCAA Program?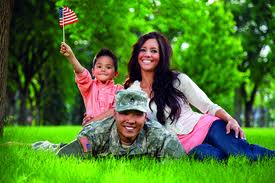 The Military Spouse Career Advancement Accounts (MyCAA) program is the Department of Defense's (DoD) employment assistance program for military spouses of active duty service members.
Agentcampus.com and LIT are proud to work in conjunction with the Military Spouse Career Advancement Accounts (MyCAA) program! View Our MyCAA courses Here!
Agentcampus.com and LIT believe that military spouses deserve a high quality education that leads to an in-demand career – a career that's portable so relocation never gets in the way of reaching their goals. Agentcampus.com and LIT are honored to be working with the Department of Defense's expanded Military Spouse Career Advancement Accounts (MyCAA) program to provide real estate online training at no cost to the military spouses who work hard daily to truly support our troops.
MyCAA is now offering up to $4,000 to military spouses and activated Guard and Reserve service members who are interested in pursuing an education leading to careers in high demand, portable career fields. Agentcampus.com and LIT are working closely with the MyCAA program to provide comprehensive online training in the real estate field.
Agentcampus.com's and LIT's online courses offer more mobility for those who must relocate often or who live overseas, as well as allowing the flexibility for our students to complete their training on their own schedule, from any location with internet access. Agentcampus.com and LIT also insist on keeping our tuition costs low so that our students can receive more training for much less than our counterparts. $4000 will go a very long way when you choose Agentcampus.com and LIT for your real estate training. Click Here to Get Started!
How to get started with the MyCAA Program:
Call agentcampus.com and discuss your career choices with one of our Enrollment Specialists.
Register with MyCAA to receive approval. Go to https://aiportal.acc.af.mil/mycaa/default.aspx.
Students should enter Lamar Institute of Technology – Continuing Education as the school in the MyCAA system.
Upon approval (MyCAA will verify spouse DEERS eligibility) students should call their Enrollment Specialist on agentcampus.com to find out how to register for classes.
Start your training in real estate and advance your new career.
How to determine student eligibility for the MyCAA program:
Students should review the MyCAA Fact Sheet which provides basic information about the MyCAA program and military spouse eligibility.
Who is Eligible:
Spouses of DoD Active Duty members and activated members of the National Guard and Reserve components are eligible. The period of eligibility is from the date of the Alert or Warning Order for Military Recall or Mobilization, throughout activation and deployment until 180 days from De-Mobilization.
Military spouses who are legally separated under court order or statute are ineligible. Spouses who are Active Duty or activated Guard or Reserve members themselves are ineligible. Title 10 U.S. Code, Sec. 1784a does not allow MyCAA to provide FA to Coast Guard spouses or spouses of service members Killed in Action (KIA).
Call Jim Forde at 714-875-0979to learn more or start immediately. Our Enrollment Specialists are available 24 hours a day, 7 days a week to answer your questions.
For More Information Contact:
Jim Forde
Director
APPROVED REAL ESTATE ACADEMY
4010 Barranca Pkwy., Ste. 100
Irvine, CA 92604
Phone: 714-875-0979
Email: Jim@ApprovedRealEstateAcademy.com
MAILING ADDRESS
Approved Real Estate Academy
PO Box 4163
Tustin, CA 92781