Find Out About Current Real Estate Job Opportunities!
Get a High-Paying Job in Real Estate, Now!
Yes, Real Estate is the Career of the Future
Don't let the gloom and doom reports out of Washington fool you. People all over the country are entering the real estate industry as licensed salespersons today- and succeeding beyond their wildest dreams!

"Through ApprovedRealEstateAcademy.com's Red Carpet referral program, before I was even finished, I had two offers from Brokers, to start as soon as I passed my exam!"

– Kathy, Salesperson, Age 54
Yes, Real Estate Brokers all over California are hiring rookie agents – and these rookies are making big money, now! Thanks to the housing crisis that started in 2007, more licensed real estate agents left the ranks of the industry than ever before – leaving many communities with a shortage of licensed salespersons, the NAR reports.
Get a Job in Real Estate, Now!
The Program with the Fastest Route to Income, Now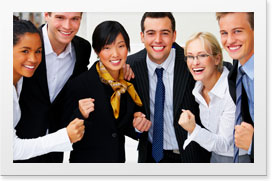 Finally, your job search is over.
Yes, there are jobs in the real estate industry in California today –
jobs that pay significant income;
jobs that will restore your self-esteem and allow you to soar as a professional making the money you deserve.
All you need to enter this lucrative industry is your California Real Estate License. And now, thanks to a large scholarship in the form of a discount offered in the State of California, you can become a Licensed Real Estate Salesperson in California in less than two month's time, for less than $115!
You Can Start Working in Just Weeks!
That's right. Less than two months from today, you can be working in real estate as a licensed California real estate professional! Today real estate companies are hiring! Thanks to the real estate crash in 2007, and the exodus of many older salespersons from the field, today the real estate industry has thousands of positions open and waiting for someone like you to fill them. If you doubt that fact, just look at some of the thousands of job postings today for real estate jobs in California.
/>See How Others Just Like You Have Done It.
No, you don't have to be good at math, or even a good student, to train online and get your license. We've helped people just like you enter this exciting field, many without even a high-school education. Training online is fast, easy, and only takes weeks. Jan will give you the inside story in her short 3-minute videos. Just click here for the videos.
You Have Nothing to Lose. 110% Money Back Guarantee!
By signing up with "Southern California's Favorite Real Estate School" today, you'll be given everything you need to learn California real estate principles and practices online, and pass your licensing exam, in just weeks! With our ExamPrep Master, we equip you to pass your exam so well, we guarantee you'll pass, or we give you 110% of your money back!
You'll Get Access to our Red Carpet Network of Brokers.
Not only does this program get you trained to get your license fast, we also give you access to our Red Carpet Network of Brokers. All across California, these top Brokers recognize graduates of Approved Real Estate Academy as the best, and literally roll out the red carpet for your application! See more detail here.
Use these links to see how easy it is to actually get a high-paying, lifestyle-rewarding career in real estate.
For More Information Contact:

Jim Forde
Director
Approved Real Estate Academy
4010 Barranca Pkwy., Ste. 100
Irvine, CA 92604
Phone: 714-875-0979
Email: Jim@ApprovedRealEstateAcademy.com
MAILING ADDRESS
Approved Real Estate Academy
PO Box 4163
Tustin, CA 92781