Students Just Like You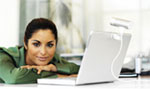 Every day dozens of students just like you, from a variety of backgrounds and unique learning experiences, choose Approved Real Estate Academy of Tustin, CA for their real estate studies – because they knew that the traditional classroom structure, or its rigid schedule, wouldn't work for them.
Whether you only have time to study at night, have increasing family responsibilities, are working two jobs, or speak English as a second language, Approved Real Estate Academy makes it easy for you to succeed, with courses designed expressly with you in mind, in today's environment.
From all over Southern California students from age 18 to over age 70 just like you, have chosen Southern California's Favorite Real Estate School. Read what they had to say, below.


Your program needs no improvement!
It has been years since I have studied so I need to improve my study habits – Your program needs no improvements that I can see. A very good course especially if you study and take the test in a timely manner which I did not.
Beverly
---
I am very happy with the help from Customer Service and the material online I just never knew they would make it this hard.
Jaime
---
Easy and straight forward. No suggestions.
Tracy
---
I have no suggestions. I was very pleased.
Melba
---


This online course was excellent!
This online course was excellent and very convenient. Easy online access and time well spent. I cannot offer any improvements at this time.
Eleanor
---


It is a great way to take a course!
It is a great way to take a course – I feel like it was well suited to my needs and my time for taking the material!
James
---
Course was excellent and the Instructors response was EXCELLENT!
Wesley
---


I would recommend this course to anyone!
All the information was very valuable. I would recommend this course to anyone who is interested in the real estate course field. I just love Approved Real Estate Academy!
Mary
---
You people are awesome!!
Eman
---
It is an excellent course! I hadn't "studied" for many years and must say that I thoroughly enjoyed it… now onto a successful career. Thank you Keller Williams and Approved.
Antje
---


Thanks Keller Williams Realty and Approved  for all the information!
Everything has been a good experience. Thanks for all the information.
Kimberly
---
This is an awesome program! I passed on the first try! Many have said that most do not pass on the first try. I am intelligent, but I was really nervous about how much I actually learned from the program. This course was awesome!
Keshia
---
For More Information Contact:
Jim Forde
Director
APPROVED REAL ESTATE ACADEMY
4010 Barranca Pkwy., Ste. 100
Irvine, CA 92604
Phone: 714-875-0979
Email: Jim@ApprovedRealEstateAcademy.com
MAILING ADDRESS
Approved Real Estate Academy
PO Box 4163
Tustin, CA 92781