Careers at Approved Real Estate Acdemy
Current Opportunities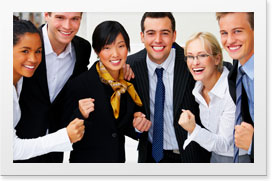 If you are looking for a career that:
• Values your creative side as much as your practical side,
• Moves at the speed of the Internet, or as fast as you can go,
• Gives you room for advancement as well as room for expression,
In a company that has a Silicon Valley philosophy combined with a Orange County pragmatism…then we want to hear from you!
Approved Real Estate Academy located in Irvine, CA is one of the most advanced 100% online real estate license school in California. As we are experiencing tremendous growth in the breadth and depth of our product offerings across the California real estate industry, we continue to seek the best and brightest additions to our professional staff. We have immediate needs for several highly motivated, results oriented stars with a desire to join a progressive, internet company.See below for some of our current openings.
INTERNSHIP – SEARCH ENGINE OPTIMIZATION
About the Job: If you want to get a taste of what it's like to work in a company that has a Silicon Valley philosophy combined with California pragmatism…then we want to hear from you! We are looking for an intern to assist us in the area of Search Engine Optimization. Specific duties may include:
Reviewing and assessing website activity, traffic trends, and assessing strategies to increase site traffic,
Monitoring/Reviewing our online advertising strategy, including Pay Per Click, with the objective of increasing Click Thru Rates and Conversion Rates,
Reviewing/Supporting our social media strategy, including recommendations for creating content rich blogs to drive traffic,
Performing various research projects involving our Analytics systems – including Google Analytics.
General Requirements:
An understanding of the internet, search engines, search engine marketing, general online marketing, and popular online social networks
Excellent written and oral communication skills, with the ability to write business and/or technical documentation
A working knowledge of generic business software (ex: MS Office Suite)
Experience with online marketing and promotion preferred
Exceptional organizational skills
Detailed and delivery oriented
Upbeat, energetic, and a positive attitude a must
Work M-F, no weekends with a willingness to work hard and have fun
Compensation and Benefits:
Our internships are unpaid. We will be happy to assist you in earning academic credit.
Application Deadline:
Fall Internship, August/September- December
Application Deadline: August 27
Click here to submit a resume and tell us why we should hire you.
ACADEMIC ADVISOR
About the Job:This entry-level position progressing to a Senior-level position supports all areas of our Academic Advisory Department, including telephone reception, email reception, limited technical assistance, data entry, and related clerical functions. The candidate is expected to act with complete professionalism when dealing with students, as well as fellow employees, with direct supervision. Essential duties and responsibilities include the following:
Primary telephone reception to include receiving and placing telephone calls, faxes, and emails for professional continuing and qualifying education students in California.
Establish and maintain consummate student relationships by handling their questions and concerns with the ultimate in courtesy, efficiency, and professionalism
Verify accuracy of data and update as needed
Conduct telephone surveys, audits, seminar change notifications, and related calls to students as directed
Additional office support and student service support responsibilities may be assigned, as deemed appropriate by management
Key Requirements:
High School Diploma or GED required
Academic Advisory or Customer Service experience preferred
Knowledge, Skills, & Abilities:
Excellent typing skills required
Computer proficiency in Microsoft Office applications required
Excellent interpersonal and interdepartmental communication skills required
Excellent telephone communication skills required
Ability to multi-task required
Click here to submit a resume and tell us why we should hire you.
Jim Forde
Director
Approved Real Estate Academy
4010 Barranca Pkwy., Ste. 100
Irvine, CA 92604
Phone: 714-875-0979
Email: Jim@ApprovedRealEstateAcademy.com
MAILING ADDRESS
Approved Real Estate Academy
PO Box 4163
Tustin, CA 92781