Coach Commentaries by Jim Forde
Student's Rave about Coach's Commentaries by Jim Forde! And You Will Too.
Coach's Commentaries by Jim Forde are the difference between trying to memorize thousands of answers, and understanding the why and the wisdom behind each answer. With Jim Forde, Coach's Commentaries turned on, you'll know you will be able to ace your exam regardless of the actual question wording or scrambling they may throw at you- because you will have already understood the point!
Imagine walking through every practice exam with one of the most experienced, award-winning Real Estate Instructors at your side, literally "private coaching" you through the tough spots. That is exactly what you get with Exam Prep Master in this mode. Jim Forde, our certified instructors spent over 2 years documenting the reason behind every question and answer.
Every question and answer is thoroughly explained to you, using illustrations and references that are are guaranteed to help you remember the reasoning behind the correct answer, as well as how to look for wrong answers. Jim Forde Coach's Commentaries are available only through Approved Real Estate Academy.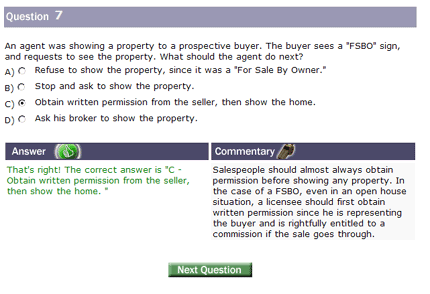 Real Estate Exam Prep Master
Real Estate Exam Prep Master was designed and developed by the same team that practically introduced online education to the real estate industry. Today, Real Estate Exam Master is available to help you pass your California real estate exam. The Real Estate Exam Master is included in the price of your courses from Approved Real Estate Academy located in Irvine, California and serving all of Southern California.
For More Information Contact:

Jim Forde
Director
APPROVED REAL ESTATE ACADEMY
4010 Barranca Pkwy., Ste. 100
Irvine, CA 92604
Phone: 714-875-0979
Email: Jim@ApprovedRealEstateAcademy.com
MAILING ADDRESS
Approved Real Estate Academy
PO Box 4163
Tustin, CA 92781