Training Calendar
If you are like the many over-committed, super-busy pro­fes­sion­als who are look­ing for a way to min­i­mize the amount of time in prepar­ing for their licens­ing exam, but max­i­miz­ing the result, Exam Prep Mas­ters' "©Train­ing Cal­en­dar" may be just the advan­tage you need.
Set­ting Your "Day­Min­der"


As most ath­letes and run­ners will con­firm, set­ting the pace for the entire race is often the dif­fer­ence between win­ning and los­ing. And we've seen the axiom hold true when it comes to pass­ing your salesperson's or bro­kers exam the first time too. Often those that pass the first time are those that
have set a good prac­tice pace lead­ing up to the day of their exam. So, when you first reg­is­ter, you'll come to the "©Train­ing Cal­en­dar" which will ask you to enter or esti­mate the date you plan on sit­ting for your Cal­i­for­nia State's licens­ing exam. This sets your "Day­Min­der" to always appear on your start-up Per­sonal Home­page, and enables it to auto­mat­i­cally indi­cate the num­ber of days you have remain­ing until your licens­ing exam.
Using "©Train­ing Cal­en­dar" to Cal­cu­late Your Ideal Sched­ule
If you are like most busy pro­fes­sion­als, multi-tasking is the norm in your life, and find­ing time to do any­thing con­sis­tently is a chal­lenge. As an added bonus, many of our cus­tomers like to have Exam Prep Mas­ter set their "©Train­ing Cal­en­dar" to auto­mat­i­cally sched­ule and dis­play their ideal Prac­tice Exam tar­get dates based on this Licens­ing Exam date. By turn­ing on "©Train­ing Cal­en­dar" either when you first
reg­is­ter, or later on your Pro­file page, your Exam Prep Mas­ter then keeps track of the cal­en­dar for you, and sets your prac­tice sched­ule accord­ingly. A quick glance in the "Day­Min­der" col­umn here will help ensure that you are pro­gress­ing through the Exam Prep quizzes at the ideal sched­ule, and will help
get you back on track should you fall behind your ideal pace.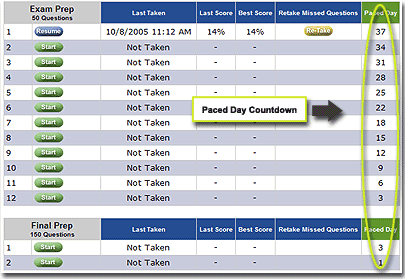 Using "©Train­ing Cal­en­dar" to Time Your Final Prac­tice Exams
This is impor­tant. Over two decades of research from Pre-License Exam train­ing data and thou­sands upon thou­sands of suc­cess sto­ries from stu­dents all over South­ern Cal­i­for­nia has proven that our "©Train­ing Cal­en­dar" sched­ul­ing sys­tem works. There is no longer any ques­tion why our sys­tem con­stantly shows up as #1 in first-time pass-rates in states who mea­sure and record these sta­tis­tics, and one of the crit­i­cal ingre­di­ents to our and your suc­cess is how we time your Final Exam Prep. Research shows that once you've com­pleted the Exam Prep Mas­ter sys­tem of exam prep described above, if you set aside time for two final major dress-rehearsals or run-throughs three days before and one day before your actual exam, in that order, you'll enter your licens­ing exam at the peak of pre­pared­ness, as finely honed, pre­pared and as Exam-ready as you can pos­si­bly be.
Exam Prep Mas­ter sched­ules your Final Prac­tice Exams at Days 3 and Day 1, based on years of expe­ri­ence, that if you resist the temp­ta­tion to do more "last minute cram­ming" on exam day, you'll be one of the can­di­dates who only has to have ONE exam day. That's our goal. And that's why we almost force you to fol­low our"©Train­ing Cal­en­dar" — so that you'll pass the real estate licens­ing exam the first time, hav­ing to take it only ONE time, period.
For More Information Contact:
Jim Forde
Director
APPROVED REAL ESTATE ACADEMY
4010 Barranca Paway., Ste. 100
Irvine, CA 92604
Phone: 714-875-0979
Email: Jim@ApprovedRealEstateAcademy.com
MAILING ADDRESS
Approved Real Estate Academy
PO Box 4163
Tustin, CA 92781