Top 10 Real Estate Tech Tools
For Launching Your Career
"What every new licensee needs to succeed today!"
By G. Liam Thompson
About the Author
Regular Price: $29.00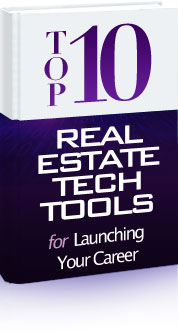 "This book revolutionized my business and my life. It is amazing to me how much time and energy I have saved as a real estate professional, using technologies that this book recommends; many of them are still absolutely free of charge!"
– Dave C., Real Estate Broker
"A must for both new real estate professionals, and seasoned veterans like me. I transformed my business by doing what this book recommended, and I now make more money with less time simply using my iPad, blog, and Zillow. Amazing. Highly recommended!"
– Maria E., Real Estate Salesperson
Here's how much the industry has changed:
Kathy is the number one real estate salesperson in her county. She has won numerous awards, she has scores of rave reviews from satisfied clients, and is a member of the Million Dollar sales club. Kathy has an assistant, earns a six figure income in real estate, and deals with scores of buyers and sellers each week.
Yet Kathy never leaves her home. She does all of this as a modern real estate professional who works with the latest tools and technologies from her home office, rarely having to leave to do a showing, an open house, or a neighborhood tour.
Kathy does this by way of necessity, because she operates her own business from a wheelchair. But Kathy is NOT a disabled real estate professional. Kathy is super-enabled – because she has traded sweat-equity for super efficient technology that essentially does all the "legwork" for her.
Through the use of such time-saving and innovative tools such as the iPad, Zillow.com, and an app-loaded iPhone, today's successful real estate professional handle more listings, closes more sales, and serves more clients, better than any agent of yesteryear.
Regardless of your training or history, starting today you can be super-enabled with the following Top Ten Technology Tools, and compete head to head with the most savvy agent. And best of all, many are available at no cost.
© 2011 by G. Liam Thompson
APPALLASO PRESS
Published by Appallaso Publishing
St. Louis, Missouri, USA
For More Information Contact:
Jim Forde
Director
APPROVED REAL ESTATE ACADEMY
4010 Barranca Pkwy., Ste. 100
Irvine, CA 92604
Phone: 714-875-0979
Email: Jim@ApprovedRealEstateAcademy.com