Quick Start Guide
For New Real Estate Professionals!
I Spill The Beans And Share With You Everything I Wish My Broker Would Have Told Me!
For New Real Estate Professionals
"Everything I wish my broker would have told me!"
By G. Liam Thompson
About the Author
Regular Price: $29.00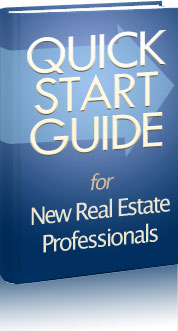 Are you tired of hearing about how bad the current real estate market is today and all the talk about the economic downturn? It doesn't take a rocket scientist to see that the current market has it challenges, however, like my father used to always say, there is a flip side to every coin.
"During The Great Depression There Were More Millionaires Made Than Any Other Time In History And I Am Seeing The Same Thing Repeated In Today's Current Real Estate Market. Some Agents And Brokers Are Whining About The Challenges In The Marketplace While Other Forward Thinking Ones Are Positioning Themselves To Make A Quiet Fortune By Using The Same Tools And Techniques I Share In This Guide"
"It took me almost a full ten months to learn the secrets of success in real estate that this book reveals in ten chapters. A must for every new real estate professional, regardless of your experience or background."
– Richard L., Real Estate Broker
"I can't tell you the amount of pain and expense I saved by reading this awesome book. Thompson is the quintessential guru who tells you only the things you need to know to succeed in real estate, without all the fluff of other guides. My highest accolades. Five stars!"
– Kathy M., Real Estate Salesperson
Yes, you can have success in real estate today, despite market conditions, housing doldrums, or economic downturns. The real estate industry has changed, it is true, but licensed salespersons and brokers in this market are making more money, and having more fun, than their predecessors could have ever dreamed a few years ago! The secret is in doing the things that will increase your revenues, now, and not doing the traditional real estate activities of yesterday that only serve to waste your time.
Your Quick Start Guide for new Real Estate Professionals provides you with a manual for success that will allow you to start earning revenues immediately, while building your business for growth from Day 1. This rich, yet easy to read text gives you the strategies, tactics and tools you should implement now, in order to start right.
Chapters include:
Defining the Skills You Will Need
Finding the Best Broker/Company
Preparing to Succeed
Knowing Your Market
Understanding the Secrets of Prospecting
Practicing the Art of Getting Referrals
Holding an Open House to Gain Prospects
Making Listing and Closing Contracts Easy
Staging a Home for Quick Offers and Sales
Advancing in the Real Estate Profession
"I couldn't imagine having any of my new salespeople start without reading this awesome guidebook to career success in real estate. It is truly that good."
– Steve M., Real Estate Broker
© 2011 by G. Liam Thompson
APPALLASO PRESS
Published by Appallaso Publishing
St. Louis, Missouri, USA
For More Information Contact:
Jim Forde
Director
APPROVED REAL ESTATE ACADEMY
4010 Barranca Pkwy., Ste. 100
Irvine, CA 92604
Phone: 714-875-0979
Email: Jim@ApprovedRealEstateAcademy.com
MAILING ADDRESS
Approved Real Estate Academy
PO Box 4163
Tustin, CA 92781